Hear What Our Customers Have to Say!!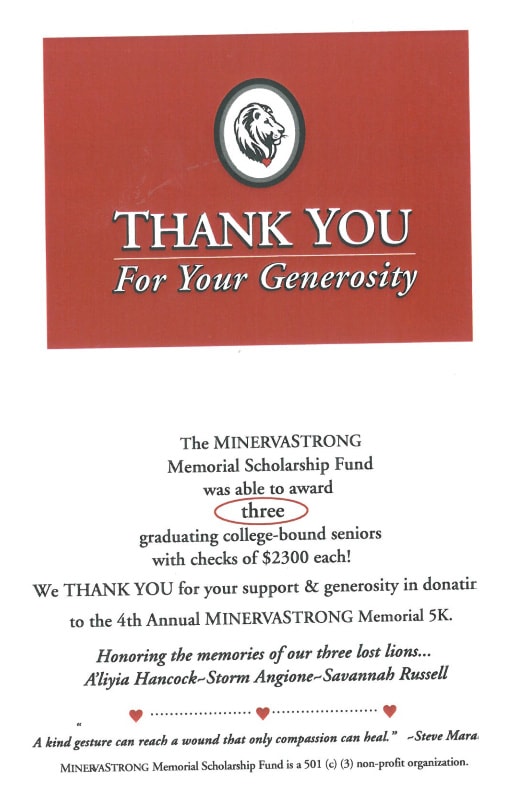 Ricco Perea with John Fillinger as he accepts his Senior Master Technician Award.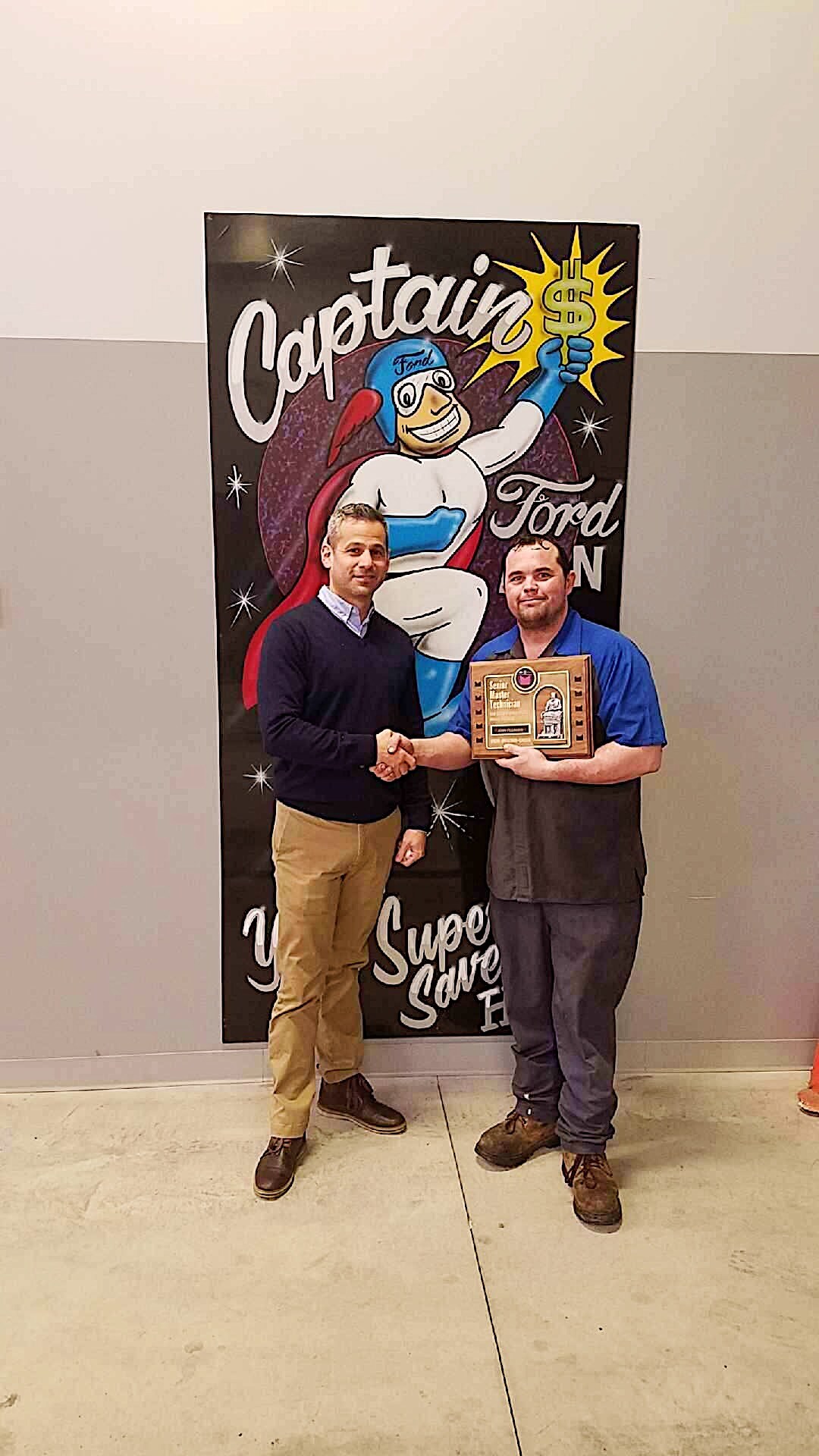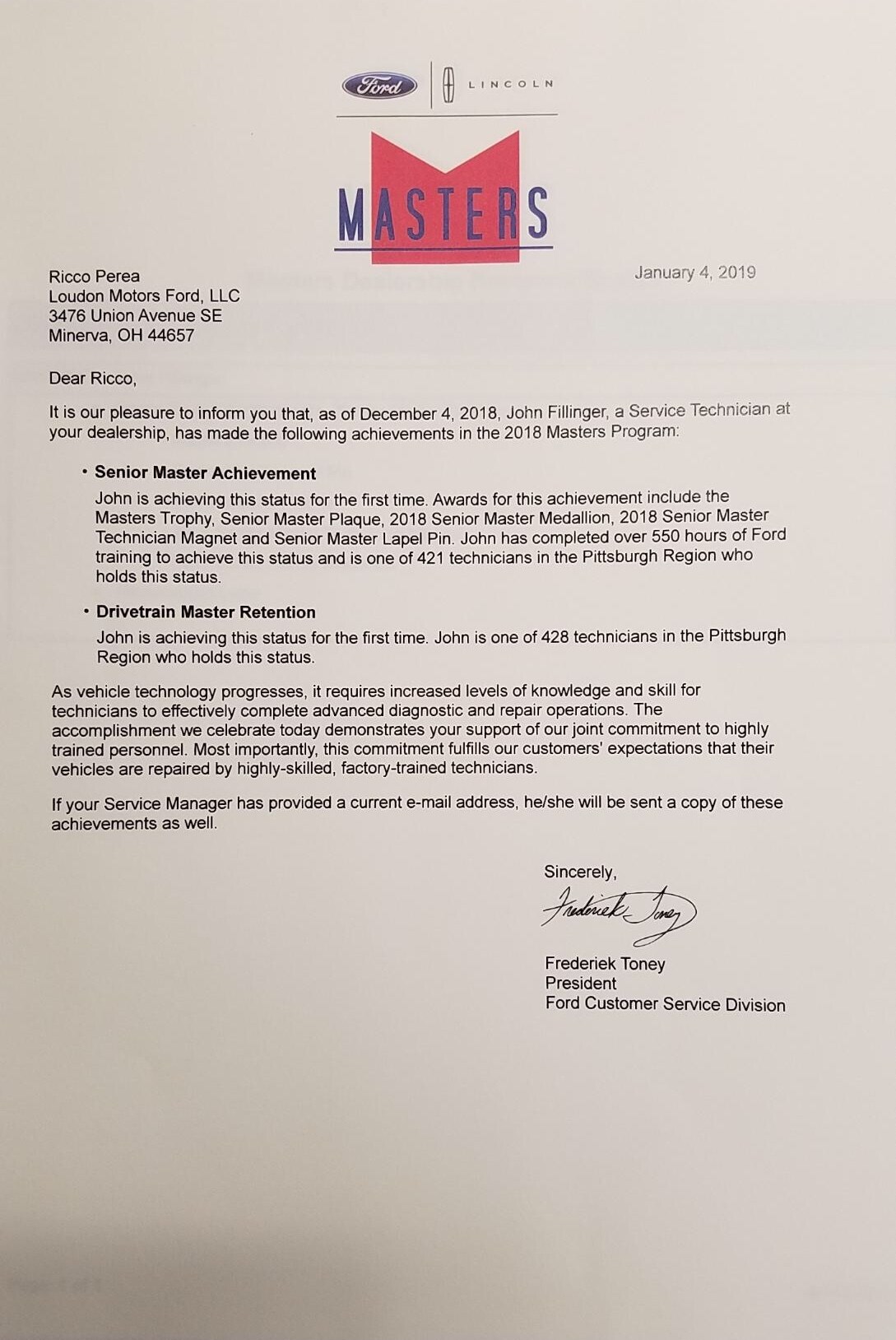 Greg Loudon, Staff at Loudon Motors Ford and to whom it may concern
310 Valley Street
Minerva, OH 44657
January 18, 2016
Dear Greg Loudon, Staff at Loudon Motors Ford and to whom it may concern:
I wanted to tell you what a great experience we had with everyone we interacted with at Loudon Motors Ford!  I drove from 525 miles away (8.5 hours) from Washington Illinois with my family (my wife, 6 year old son and 11 month old daughter). I first talked with Tony Depiro and explained my interest in the 2011 Expedition EL 4x4 Limited. He was professional and took me seriously knowing I was from so far away. In a little over 30 minutes of phone time (over 2 days) we had agreed on a price and trade in value on my 2008 Expedition with photos being sent.
Bill Edwards got us in and out, completing all the paperwork and answering all questions with sincerity.  It was great getting to know Bill! Kenny Toalston even asked if my son could have a balloon.  Thanks Kenny for that!
Tony Seran did a great job getting our vehicle ready, parked inside (cold out for my young kids, being in our car for the long trip helped tremendously)! We looked over the car in detail (4th Expedition 1999, 2006, 2008 & now 2011!) Answered all questions or found the answers quickly.  Tony even helped me transfer our luggage into our new car and went above and beyond! He also followed up with a call the next day to make sure we had a safe trip home and are happy with the new purchase.  Tony - Thanks for going the extra mile for us, we appreciate it!
Overall, we had a remarkable experience with Tony Depiro, Bill Edwards and Tony Seran. I will be recommending them to friends and family even though we are hours away! We had been looking for this Expedition EL for 6 years and I am glad we made the trip to Loudon Motors Ford to complete this purchase!  Our daughter is already in the expedition asleep (to cold for her in the picture below).
Sincerely,
Brian and Tammy Barron
Washington, Illinois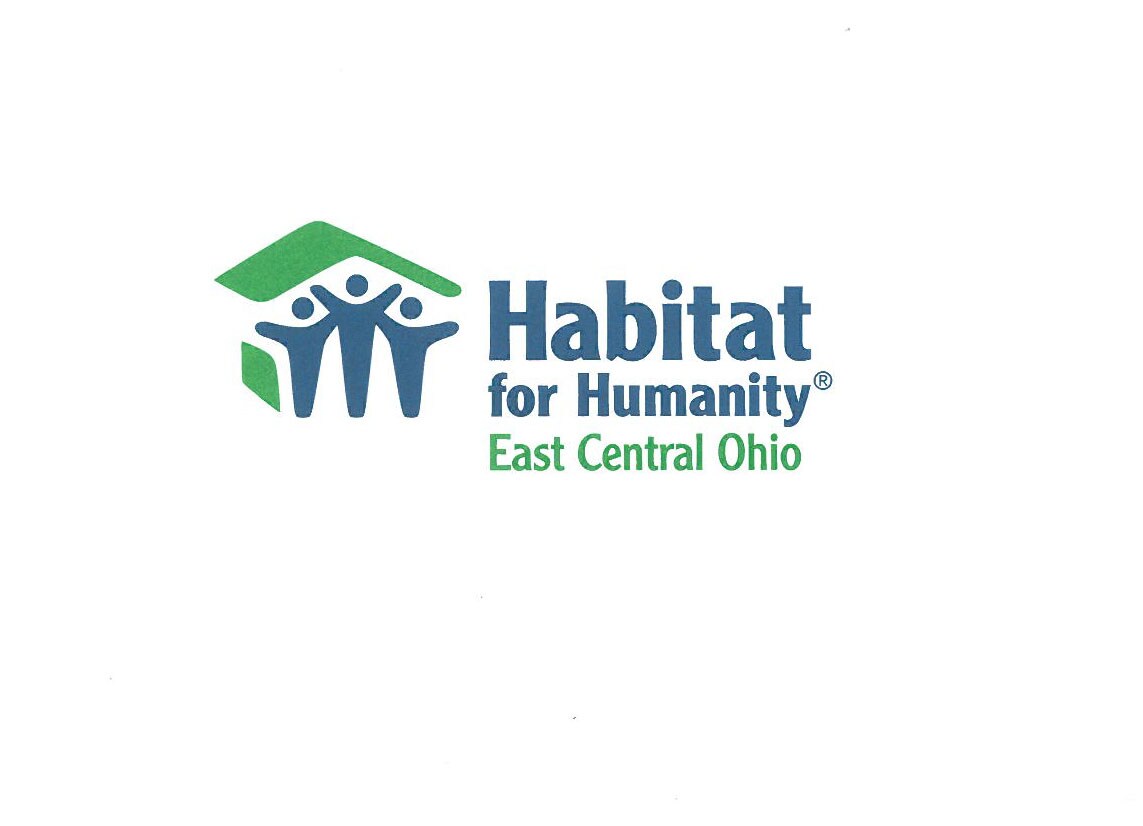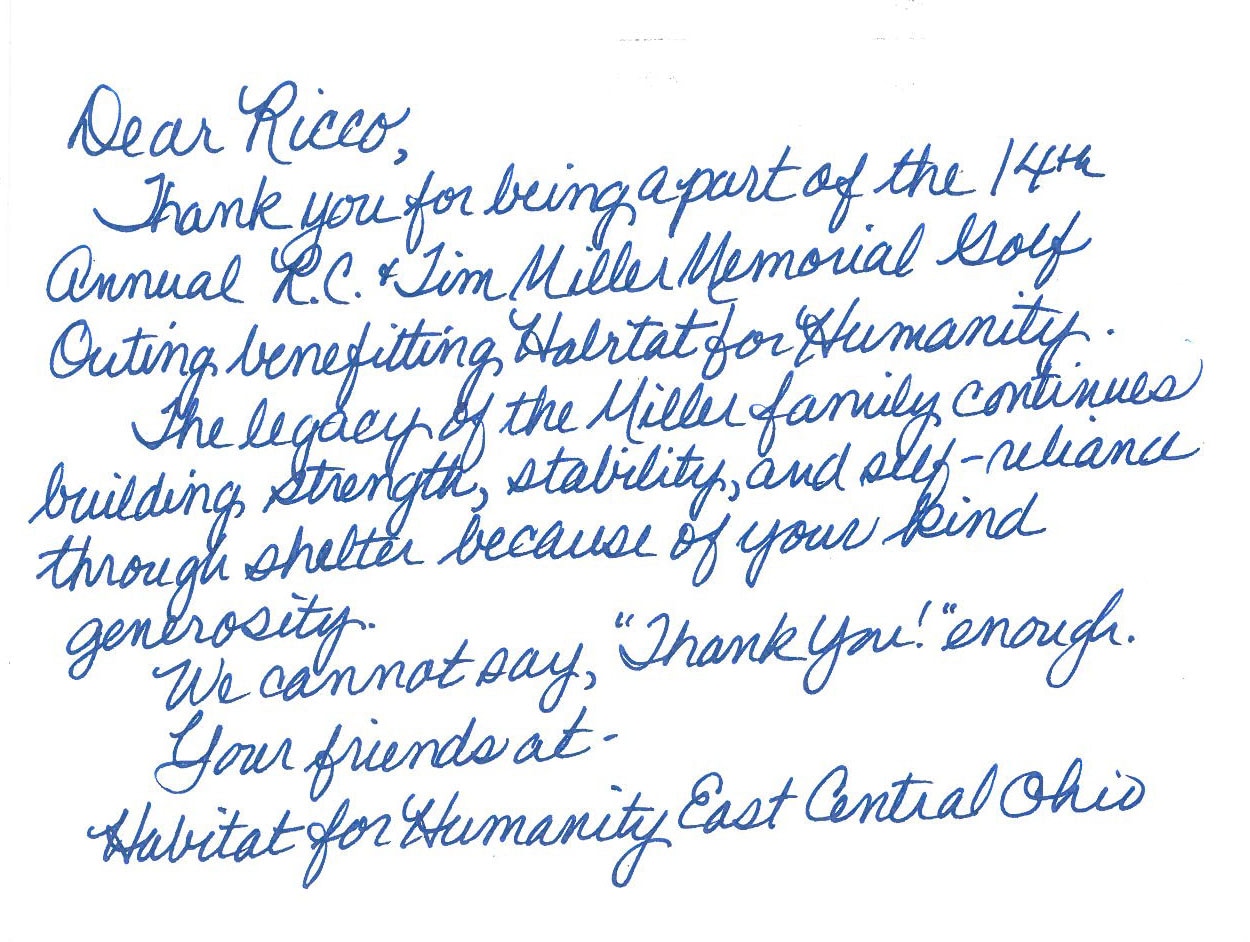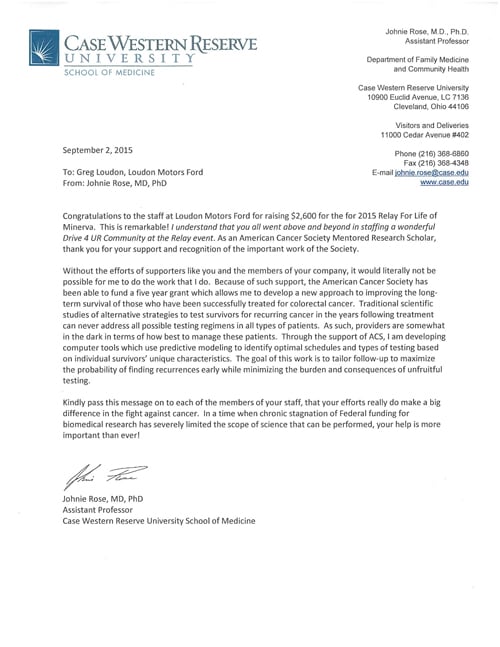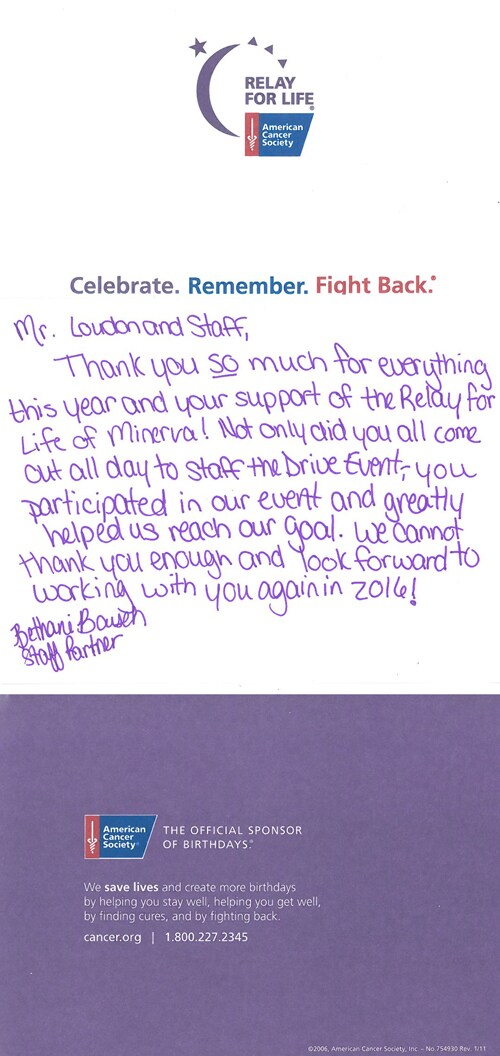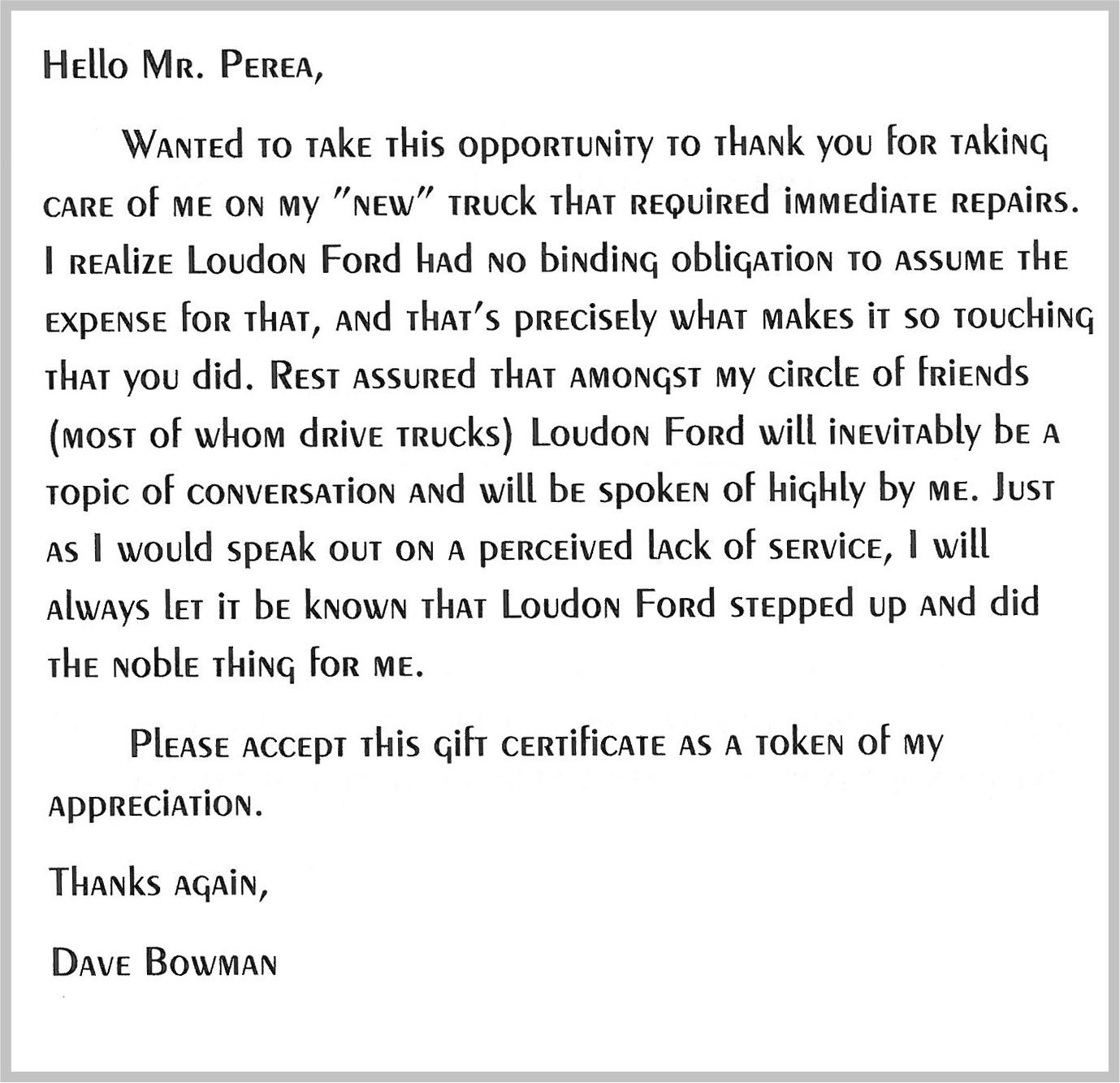 Experience with Loudon Ford
Mr. Loudon,
I just wanted to express our gratitude for a great experience with your company. You and Ken were very helpful and understanding with us. Being a business owner myself, I understand how busy you are and the relationship you need to build with your customers. With that being said, I definitely will be recommending my family and friends to come to your store since my immediate family drives Fords. I am just so grateful that Mike McKinney sent us your way. My wife is extremely happy with her new Explorer and the deal that we got with Ken. If there is anything my company can do for you, please let me know.
Thanks, Jim
Jim Luli, President
JL Excavation Services LLC
Greg,
I don't know your last name but while working with the finance director i asked for an email address of a person who has a real interest in the company.
I will start off saying Paul Paumier is ONE the best sales person, my son is the other, i have run across not only in the car industry but all sales encounters. WHY? Paul cares about not only what the customer concerns are but his loyalty to his company as well. He speaks highly of Loudon and the management team Our Company has a sales team selling forensic hardware and software and we hired a sales manager who trained our team with a training program developed by a fortune 100 company. We close over 75 percent of our leads and our customer retention is 93 percent for annual support. We have also taken 63 percent of the market from competitors for lack of customer support and taking away concerns they had by LISTENING. So why am I comparing my company to yours? Loudon appears to use these same techniques cares about the customer experience and is loyal to his company and if he doesn't know the product he learns what is does do and what it can't do. Paul took away my concerns and was honest in the beginning about what he could do and not do. We both walked away agreeing we couldn't go any further. Thanks is when Rico emailed me not knowing the deal was off and wanted to know what he could do. We talked back and forth and we had a deal. That is why I traveled 127 miles to pick up my vehicle. I explained my satisfaction to the finance director and he let me know if was funny, we just had a training workshop where we were emphasizing these very things.
If you are the owner you should be proud of developing such a great workforce and if not, please pass my comments to him or her.
I would travel the distance again not knowing if we can make a deal but return knowing it would be a good experience and not stressful as car buying often is.
Thanks again,
Michael Powers
Columbus, Ohio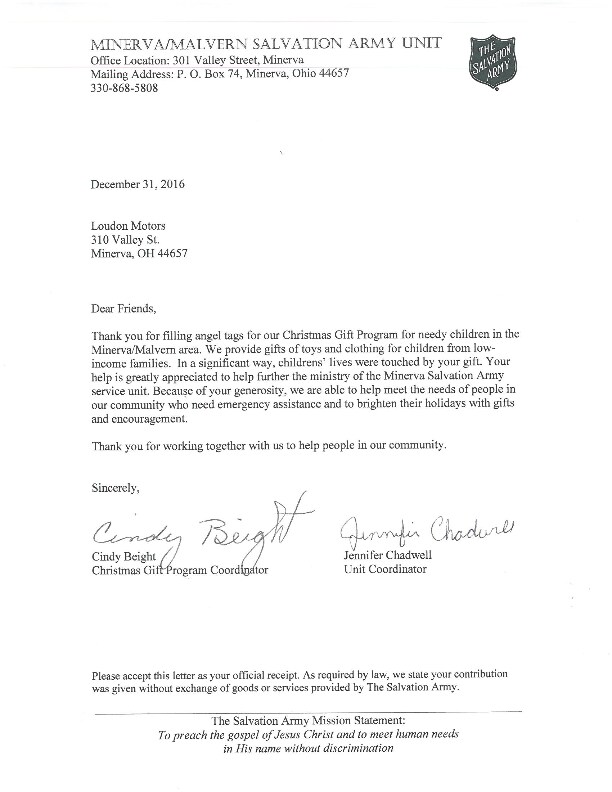 Dear Greg Loudon,
Thank you for the Six Pack of Oil Change that you donated to the Fall Auction. Your support of our Junior Class fundraiser is greatly appreciated. We are sincerely grateful for your effort in making our prom and after-prom a special occasion. 
Sincerely,
Ms. Whiteleather, United Students & Parents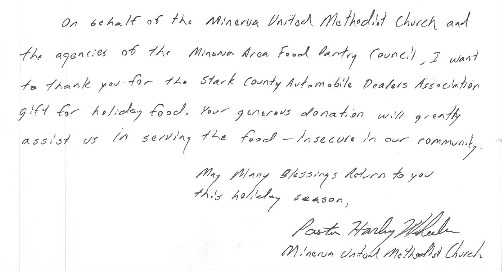 Ricco

Love my King Ranch and thank you for helping me make the purchase.  Always fun coming to Loudons.  Everyone is so courteous, friendly and just plain great to be around. 


Marilyn Guerrieri
Dear Mr. Loudon,


I found the Lincoln Navigator I bought from you online. I requested information and was contacted by Kenny. He is so GREAT! It was like dealing with family. He went the extra mile, and then another mile. I also want to thank you for calling my husband and straightening him out too. :) Also, thank you to the lady who picked up my dad at the airport and took such good care of him. My dad couldnt say enough good about all of you. It will be a while before I need another vehicle, but when I do, I will call Kenny first. I live in Upper Michigan, but you are worth the extra miles!

Teri Jorasz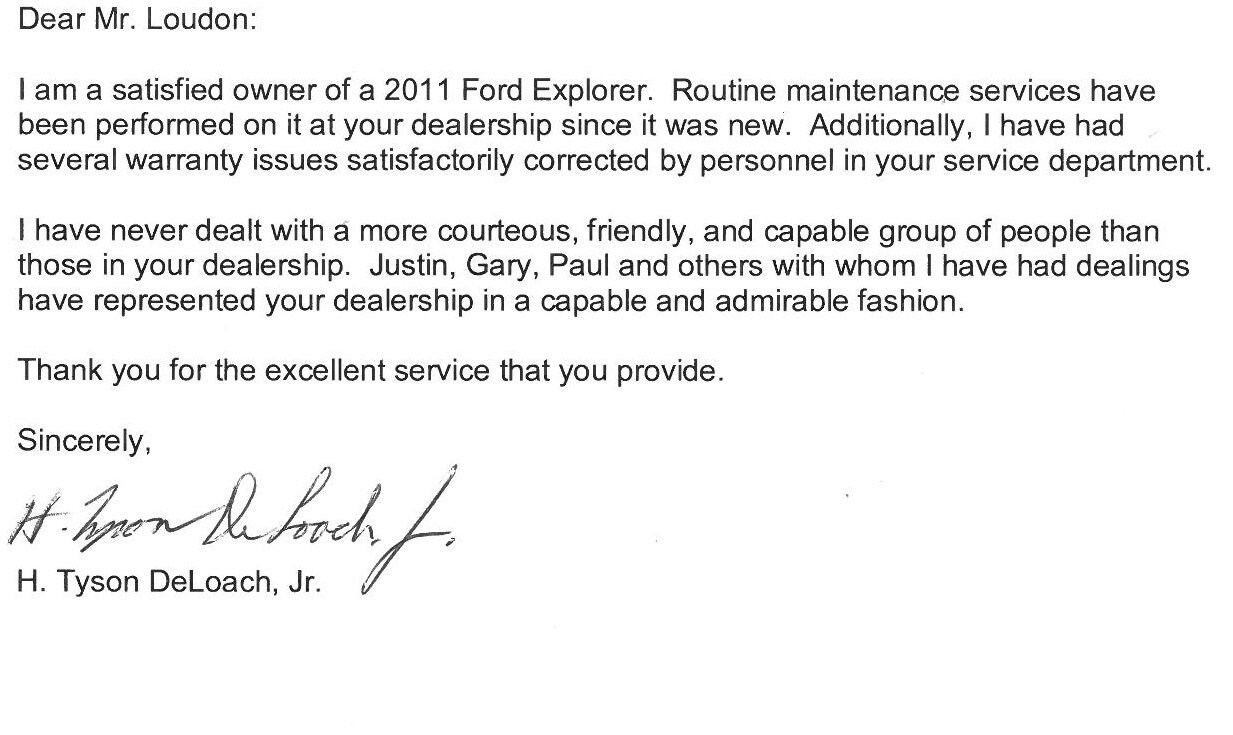 Paul,
Thank you for making our buying experience with Loudon Ford a pleasant one on Friday. I highly appreciate you having things in order for an out of state buyer and the speed in which all of it was handled. We made the 900 mile trip there and back in time to enjoy dinner with our family.
Regards, Matt Wilson 
 Ricco,
I just wanted to thank you, Paul and Chris for a pleasant buying experience. I am very happy with my purchase. thank you all for being so kind and courteous. I am happy I came to Loudons and plan to agaon, well in 39 months anyhow. But of course I will be in for service when it's time. Have a Great day! 
Thank You, Jennifer Haynam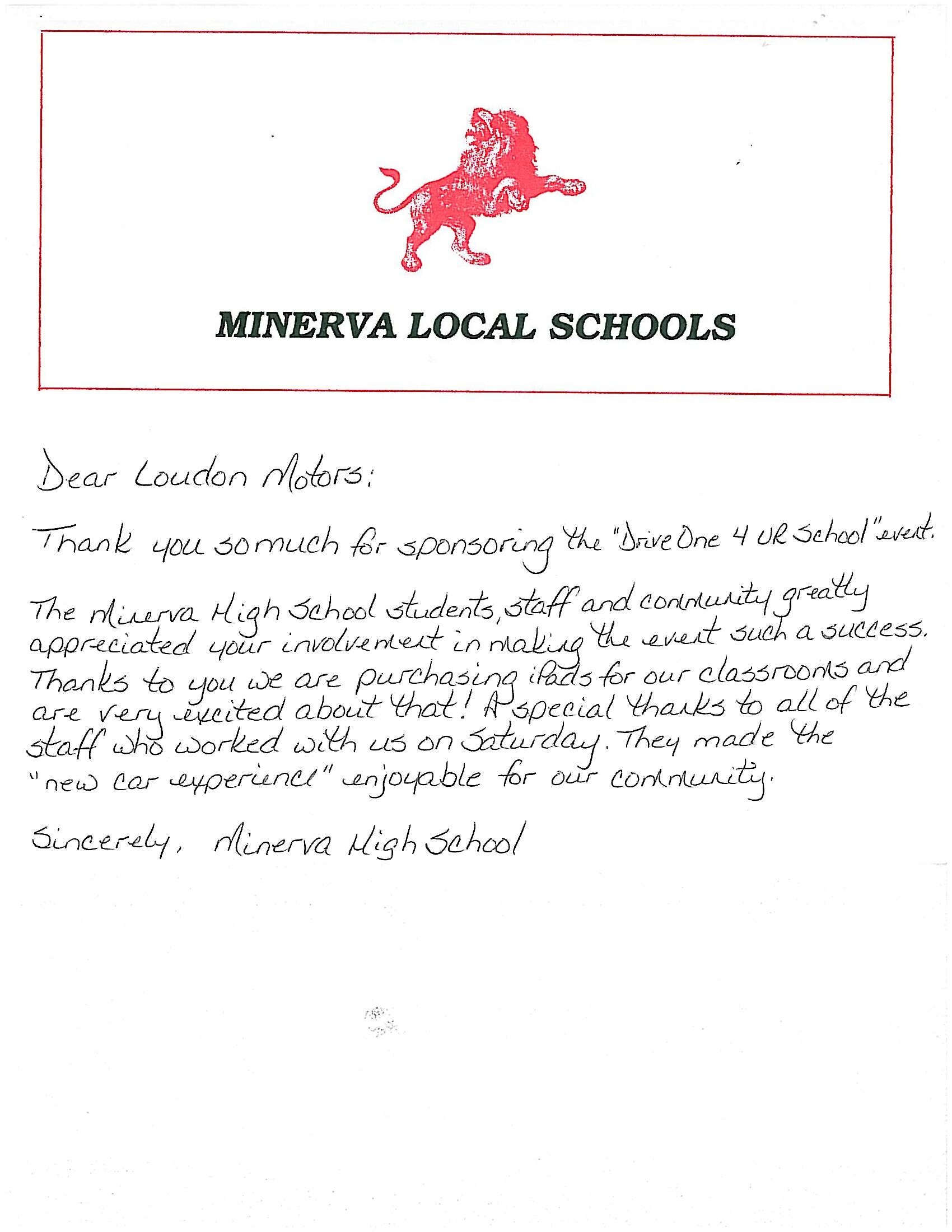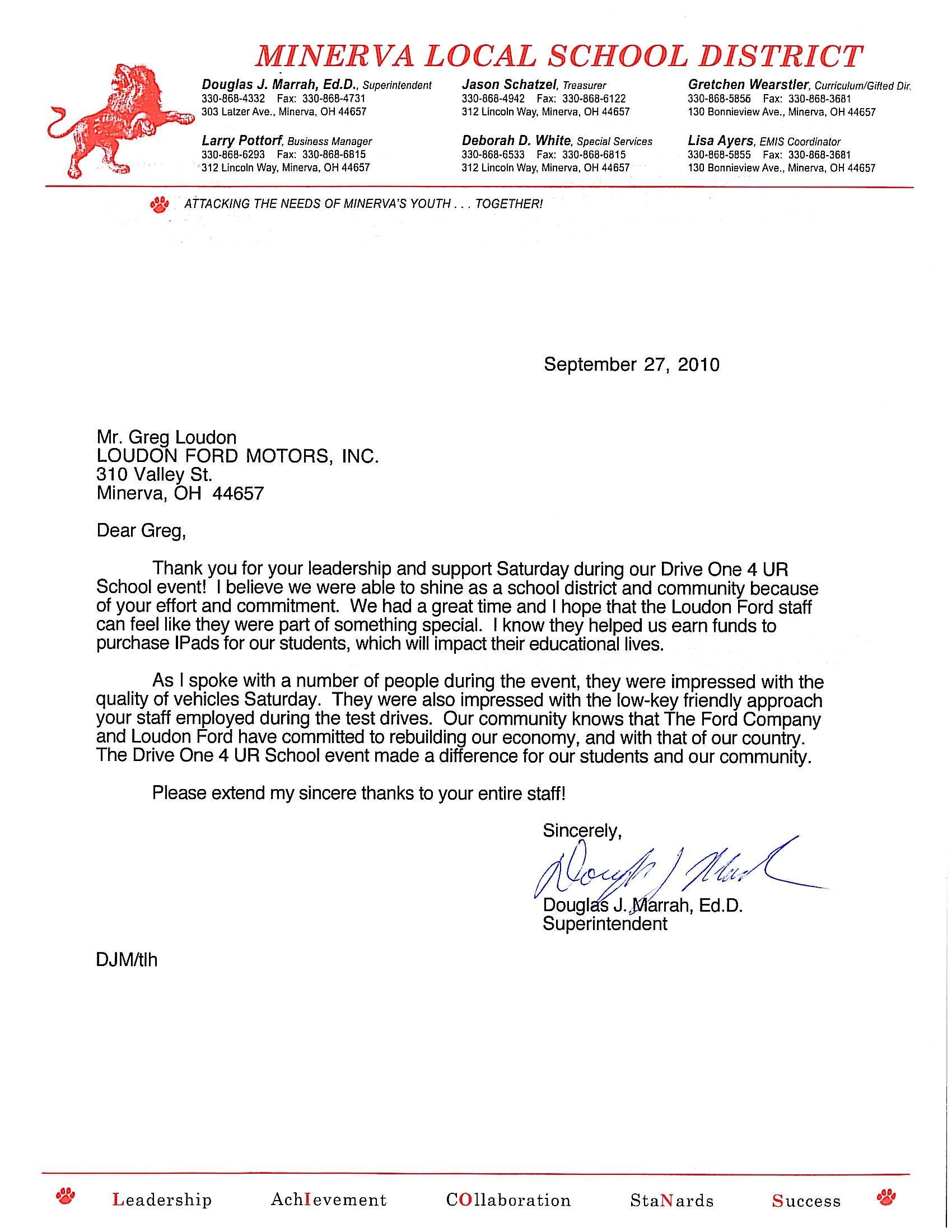 "LMF Goes the Extra Mile"

Justin Saults,

I would do a commercial on how Great your Service Dept. is. Thanks for taking such Great care of me and my vehicle problems. I am glad I came back to my Hometown dealer. You and Your Dept. go the Extra Mile!! Thanks so Much Again!!

- Alvin C Madison
"GREAT SERVICE AT LOUDON FORD"

Good Morning Paul--I would like to thank you and everyone at Loudon Ford for the fantastic job they did on getting my car to the border. Everything was simply super at U.S. and Canadian customs and the car is now sitting in my garage. I will certainly recommend your dealership to my friends who would like to purchase a vehicle in the US. In the meantime I wish you well --take care my friend--Ron----p.s. I had to go to Port Huron in a snow storm to pick it up!!!!

- RON McCLEARY
"Thank You"

Hi Paul,

I want to thank you for helping me understand this navigation system on my F-150. You're an awesome teacher. Thanks for taking the time and having the patience to explain it to me.
You have a great day!!

- Marilyn Guerrieri
"Great Service At Loudon's"
"I just want to give a big "Thank You" to you guys (and my salesman Tom) for the very awesome service and great welcome feeling I had yesterday (March 2nd). My expectations from a dealership have reached a new standard that I don't think anyone in this area can meet. You guys are the best!"
- Zach Mo
"Great Service"

Dear Ford Motor Company Customer Service,

My 2002 Windstar was recalled for the front end problem. I took it to Loudon Motors Ford in Minerva ,Ohio for service and it was not safe to drive. The service department went out of their way to take care of this problem by getting a car for me. There was not a minivan available for two days. My wife had an appointment in Minerva at 7:30 in the morning. They picked her up at our home and took her to her appointment and then came back and took her to get the rental car.

When a dealer cares enough to do this, someone should make you aware of the kind of people who sell and service your vehicles.

- Lloyd A. Schrader, Sr
Dear Mr. Loudon,
Our car was recently recalled because of the front end problem. Your service department found it unsafe to drive. Paul was the fellow who took care of this problem. He was diligent in getting us a rental. I had an appointment in Minerva at 7:30, but the rental was not ready for pickup until later in the day. He sent one of his people to pick me up, take me to my appointment, then came back and took me to Alliance to get my rental. This kind of service was very much appreciated. Your service department has always been very nice, but this was above and beyond. Hats off to all of them!!!

- Mr. and Mrs. Lloyd Schrader, Sr
"Amazing Sales Staff"
Hi Ricco,
My fiance, John, and I were in (late) last night to buy the '08 Dodge Avenger. We wanted to write to you to thank you, Paul, and Bill for staying late to accommodate us. We were thrilled with the customer service provided by the three of you, especially as it was our first time making such a large purchase without the help of our parents. Paul was so helpful throughout the entire process and never made us feel bad even though we had a small budget compared to some that walk through your doors.He explained everything about the car and connected with us on a personal level during the process. Everyone tells you to be wary of car salesmen because they're "only trying to make a sale" but we never left that way with Paul. We will be recommending your company, and Paul, to everyone we know in the market to buy a car. The trip was well worth it!
John and I have never experienced such exceptional customer service anywhere. We were wary of the drive out to Ohio to look at the car but were instantly happy with our decision upon being welcomed into your store. We never felt rushed by any of you, even when my insurance company took forever to fax my proof of insurance. Thank you again for such a great "first car buying experience".

- Jackie Pajan
"Great Sales Team"
Paul,

I wanted to take the time this morning to thank you for the time you put in to helping me achieve the deal I needed to buy my new truck. With my work schedule and inability to talk on the phone during the day, the email communication that you provided was top notch. I appreciate the time you spent working a deal for me with out even meeting me. I contacted 4 Ford dealers in search of the F150 Club Cab that I was interested in. You by all means communicated and worked with me beyond all of the others. I felt comfortable working with you as well as the entire Loudon Motors Team. The financing was smooth, the information passed through emails and phone conversations was thorough and exactly what I was in need of. This was by far the best NEW VEHICLE purchase I have experienced. The entire team should be commended for all of the work that you do. I drove home with a new car yesterday only spending a total of 90 minutes on your lot. There is a lot to say about that. From your management letting me take the truck home with me because of the issue of time (all me) to the 20 minutes of signing the final paperwork to Loudon taking care of the Registration Transfer and not to mention contacting my insurance company to have the new truck added to my policy. Loudon Motors is a top notch facility that will be highly recommended by me.

- Steve Stonebraker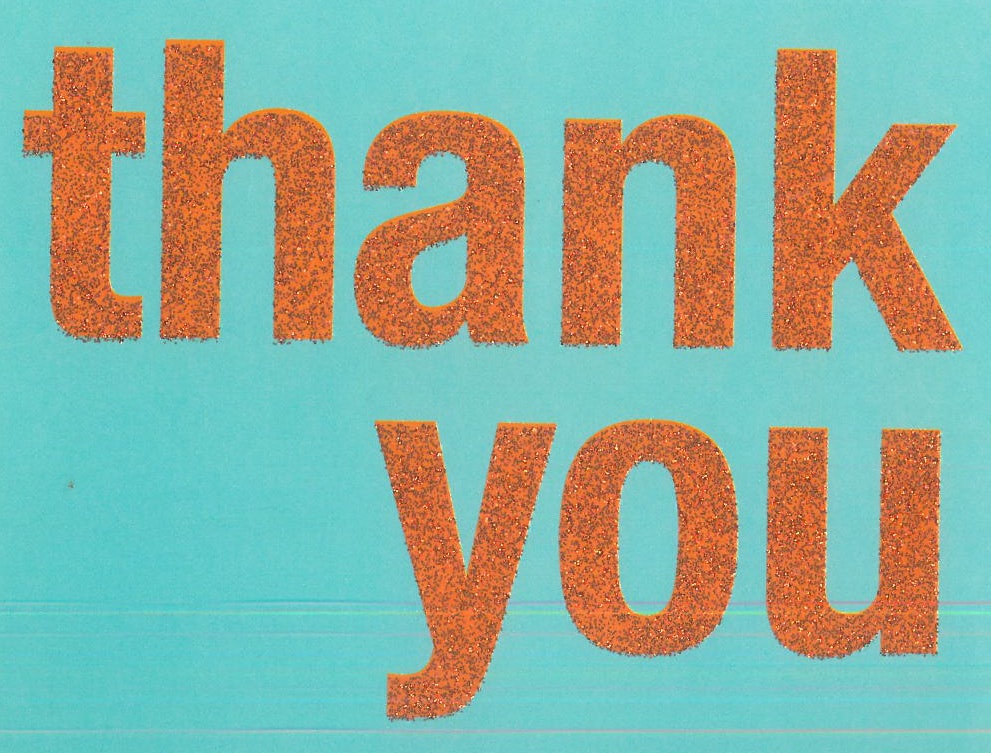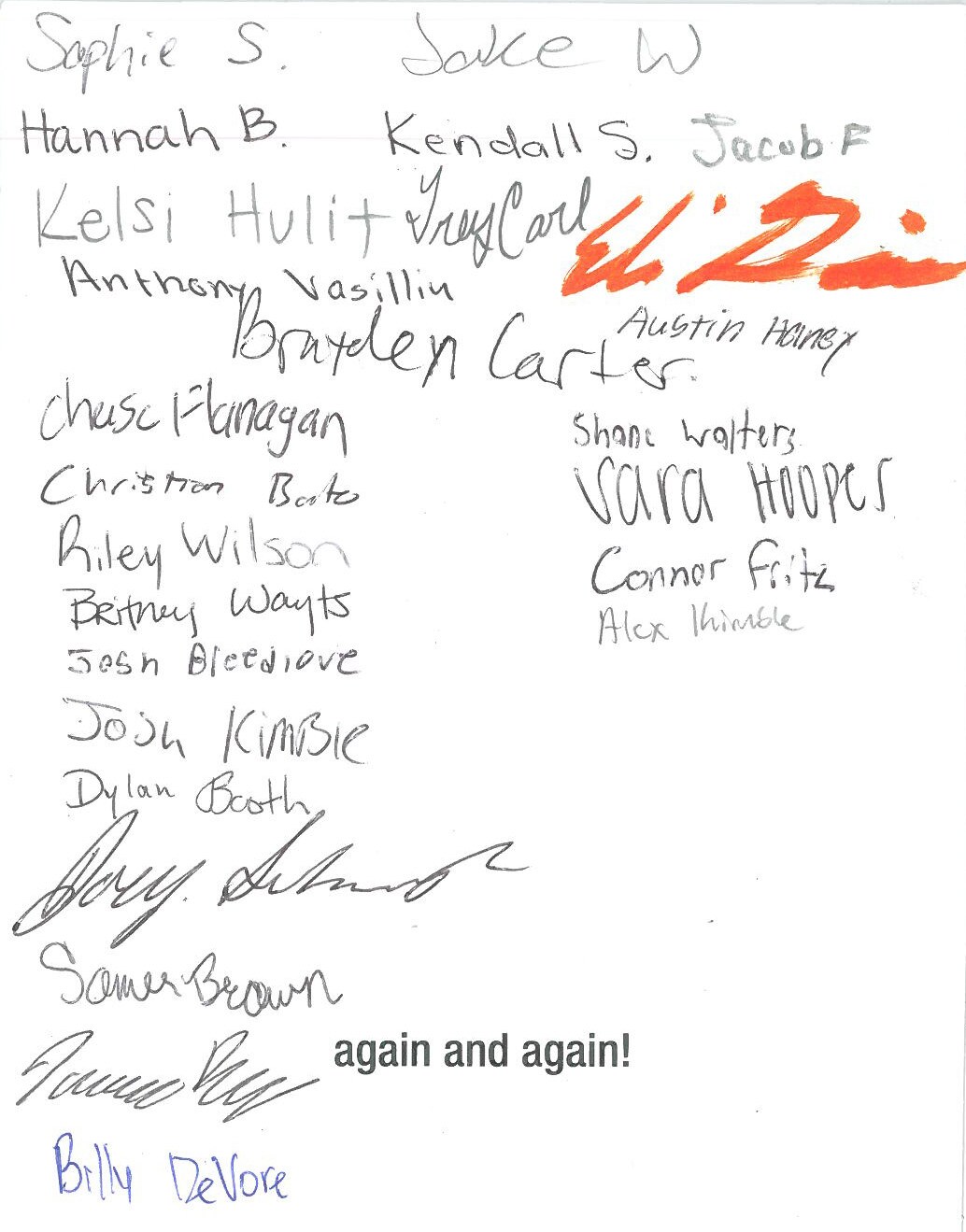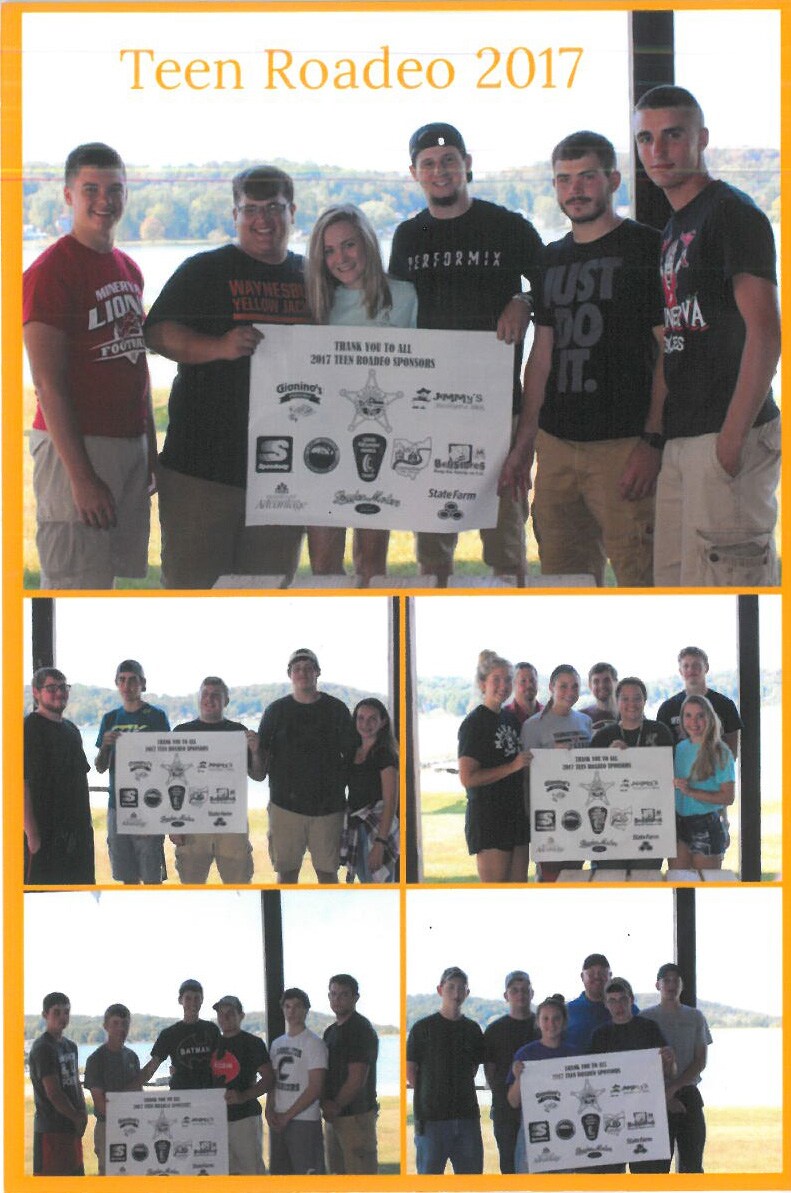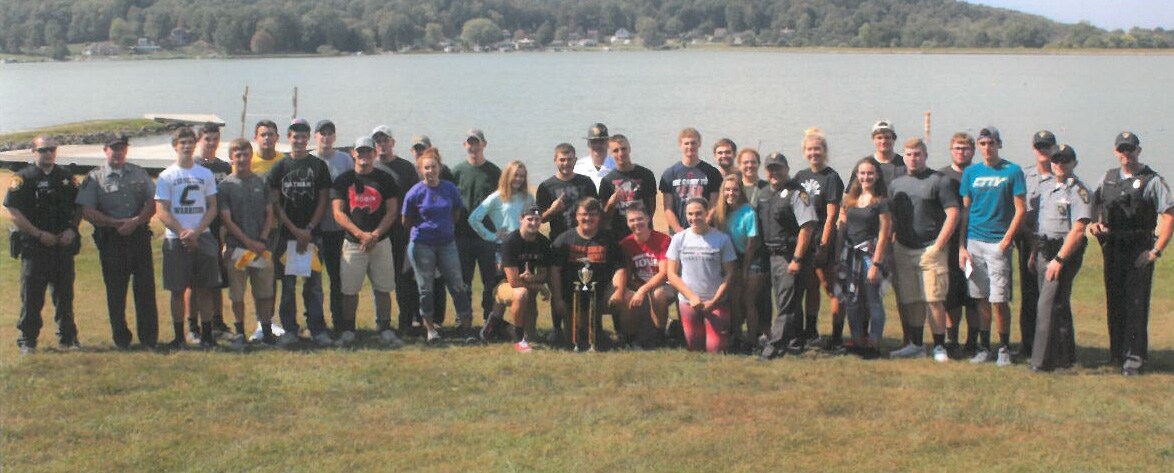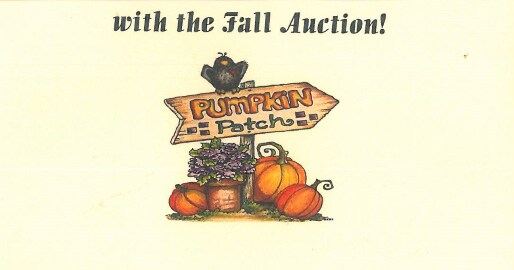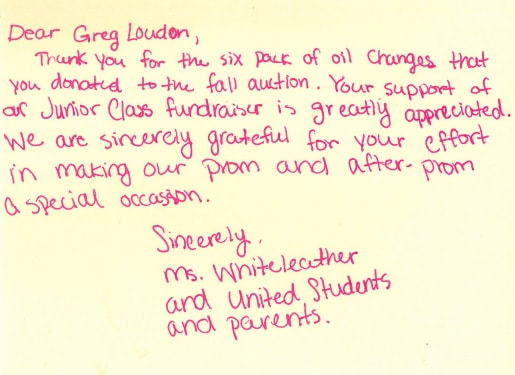 Hello Mr. Loudon,
My name is Liana Yoder and I have a 2015 Ford Explorer that I purchased from your dealership new in 2015.First I would like to say that I love this car, and second I would like to tell you that your service department is awesome.
I have been bringing my car back to you for regular oil changes and maintenance.  The service department is always so helpful, and can always get an appointment quickly.  I usually talk to Kelly, and she is always friendly and easy to talk with.
But, I must comment on the driver that picks my car up and drops it back off.  Larry.  He goes above and beyond any service person that I have ever known.  When he returns  my car he will explain any and all the service that was done.
Always answers any questions I may have, and he treats my car like it was his own, and I truly appreciate his dedication.I hope you know how lucky you are to have such a caring gentlemen as he is.
You have a super team, and I just wanted to thank you.
Liana Yoder
I would like to thank Ken Henderson for his personal and professional attitude in the purchase of my 2014 F-150. Ken went above my expectations to make sure I was satisfied with the truck and familiar with all the options. The whole Loudon Motor Ford staff did an excellent job and I would recommend without hesitation anyone looking for a vehicle to stop in and give them a test drive. Thanks again Ken Henderson and Loudon Motor Ford of Minerva.
                                                                                                                        - Jim Strait